Y O U R D R E A M H O M E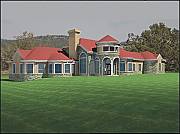 One of the most satisfying experiences in life is in the planning and construction of your personal residence. The Custom Home should perfectly facilitate your lifestyle; convenience, adequate space and order are its foundation. More importantly; it should inspire the imagination and give warmth to the heart as well as to the body. It is the ultimate expression of your personality. Improvements in materials and technique of construction allow today's homeowner the widest variety of plans and stylistic possibilities. And with exacting effort a most unique translation of your mind's eye is more possible now than ever before.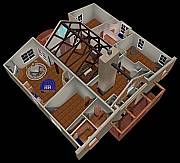 Even though opportunity for expression is boundless, only the proper match of plan, theme, and site woven together with the will of the Owner will result in a truly enduring and timeless Architectural Design that will retain its Investment Value over time.

For over 39 years our Architectural staff has proven consistently, that our unique capabilities and background can satisfy the desires of the most demanding and esteemed client. Through continuous personal research and a commitment to Design Excellence the result is a 'one-of-a-kind' residence that bears a distinct 'signature style' timeless, a true classic.

NOW YOU CAN HAVE YOUR DREAM HOME PROFESSIONALLY CUSTOM DESIGNED BY AN ARCHITECT.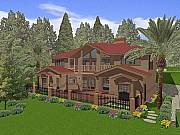 Have you ever wondered what your Ultimate Dream Home could look like?

Now your Dream Home can become one step closer to reality!

Whether you have a lot purchased or not, your vision can be transcribed on paper for study, planning, cost analysis, and artistically rendered for your enjoyment and satisfaction.
Our Award Winning Architects will apply their skills and talents to provide a most unique solution with artistic effect in perfect harmony with your exacting specifications.
A Dream Home Design will allow you to make the aesthetic, budgetary and area planning decisions necessary, and from which an optimum floor plan and front elevation will be conceived.
Your Home Design is guaranteed to be a viable, buildable, valued investment; a 'One-of-a-kind' creation.
for more information